Click image to enlarge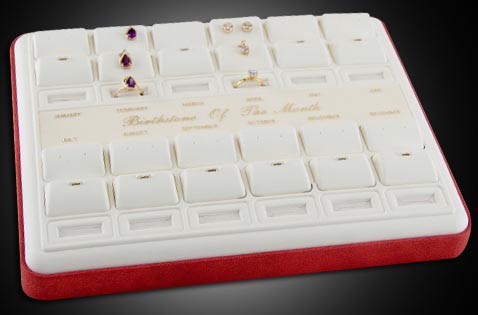 Jewelers looking to display their birthstone sets, look no further. Ovadia has a wide range of birthstone displays in our Info line, but this display is made especially for birthstone jewelry sets.
Jewelers often struggle to find the best way to display their birthstone jewelry in a clean and organized presentation which does not take up excessive space within their showcases.
Measuring a manageable 11" inches x 9" inches, the Ovadia Birthstone Displays can showcase 36 piece of jewelry at a time, while providing the proper signage for your Birthstone Sets.
While this is not a "new" concept, many are unaware we have made displays for birthstone jewelry sets, this is one of those trays.
This display includes the signage "Birthstone of the Month" front and center, with a corresponding months to match up with each ring, earring, and pendant set. The earring and pendant pads are easily removable for ease of presentation. Pendant pads have the option to be displayed with or without a chain.
The interior is finished in our Oro-Lite material and the exterior can be accented in any of our 50+ fabric options.
Request more Information