Click image to enlarge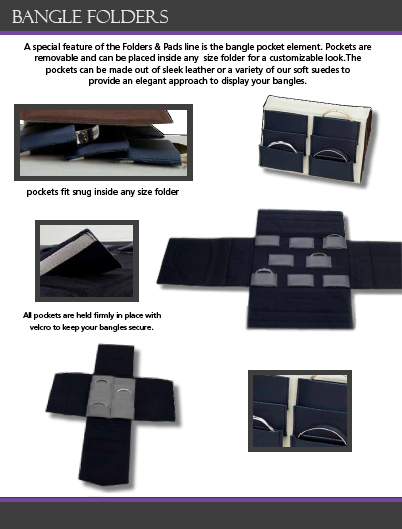 Few bangle displays work particularly well for transport based the shape and size of bangles varying. By utilizing bangle pockets of differing sizes, our bangle folders can be completely customized by simply moving around our bangle pockets to the formation you desire.
Where others have lacked the imagination to create an effective bangle folder, we have accomplished that feat with this product. This bangle holder saves a tremendous amount of space during travel, provides a refined presentation, and effectively protects your bangles from damage.
Ovadia bangle folders can be accented with any of our numerous suede and leatherette options to further customize your presentation to your branding needs, so as to ensure your company's success.
Request more Information