Click image to enlarge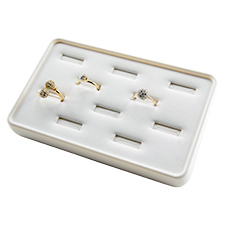 Everyone in the jewelry industry will eventually need to purchase stackable jewelry trays when they need to transport their jewelry. The retail salesman looking to store their (understocked) jewelry in the most effective will need stacking trays to do this most effectively. Perhaps a jeweler is looking to take their goods to a trade show and needs an effective way to transport it. Jewelry manufacturers looking to sell their merchandise to retailers are going to find great difficulties to minimize the weight and space used to transport their jewelry. Of course, the most important factor to consider is that the function of stacking jewelry display is to last and hold up over time. If your tray does not hold up over time, it could prove damaging to your jewelry. This "how to" article is designed to give you the information required to selecting the right jewelry tray for any application.
One of the most critical factors you must also realize is where your jewelry tray is made. A large percentage of stacking jewelry trays are made overseas with poor quality control, if such an issue causes your displays to fall apart when transporting, your jewelry could very easily become damaged during traveled. Saving a few dollars on buying cheap and inferior displays could damage your jewelry and cost you literally thousands of dollars in damages. It is absolutely pivotal to consider the durability and strength of your jewelry trays.
There are a large variety of stackable jewelry trays on the market, finding the right one can prove to be a rather daunting task. If the tray you pick is of a low quality, it is probable your jewelry tray could fall apart. The material which it is made from and the quality of construction should be seen as one of utmost importance when selecting which jewelry tray you choose to go with. A high density plastic tray would be most likely to keep your jewelry safe under any condition and a tray constructed from such a material can last for literally years before you would ever need to consider replacement.
Some stackable jewelry trays available on the market are currently made from a low quality black velvet. Stacking jewelry displays constructed from such material are produced in countries with poor quality control, I have heard far too many stories of jewelers trying to use inferior jewelry trays in place of high quality displays and paying the price later. Using poor materials also shows a lack of respect for the jewelry to poor quality material, if you are trying to sell to a customer a piece of fine jewelry while presenting it on a cheap surface, it is undoubtedly a poor reflection on your jewelry. Cheap materials are not recommended for use unless your jewelry is less than $10 per piece. Cheap jewelry goes on cheap displays, if you hope to elevate the value of your jewelry you cannot purchase low quality trays which look cheap.
Go into a high quality jewelry store and you will see the trays are all custom crafted to match the color schemes within their showcases. If your company has a color scheme, then the stacking trays used should coordinate with the color scheme to act as branding mechanism. The jewelry business is profoundly detail oriented, if you are unwilling to put the effort to select the right jewelry trays and your competition is willing to put in the time to do so, you better start worrying. It is worth seeking out companies which custom build made to order jewelry trays to elevate your presentation while keeping your jewelry safe and secure. You may have been led into thinking a low quality stackable jewelry tray can save you money and not hurt your sales, but time has proven that their is no shortcut for proper jewelry presentation.
Request more Information