Click image to enlarge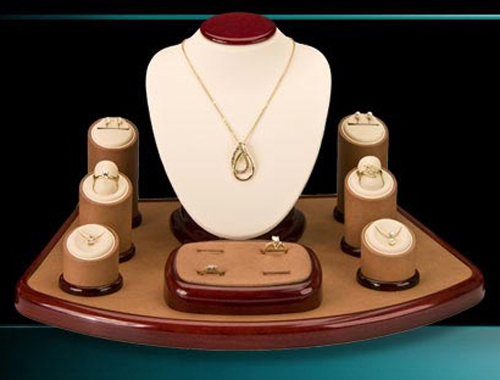 Any retail jeweler worth their salt knows you cannot just put out your merchandise and expect customers to shop. Your jewelry needs to be presented properly, and a decent jewelry display can help to move your items off the shelves and into the hands of your customers.
If you are a retail jeweler and begin start shopping for a jewelry display you may be surprised at sheer number of options you have. Everything from bracelets and watches to single pairs of earrings has a wide variety of choices for presentation.
Remember that the layout of your store is a reflection of your taste. If your customers view your store's layout and jewelry displays to be in poor taste, then why would the customer give your jewelry a chance. How to properly present your jewelry
In many cases, laying out your jewelry flat on a shelf is a good option, but many cases this is not the case. Oftentimes jewelry stands could be a good option, but you cannot have all of your pieces on stands and a lot of your jewelry will need to be stored away flat. The key is variety by utilizing both flat and stackable jewelry displays as well as standalone jewelry stands.
It is paramount that one jewelry display should never obstruct the view of another; the last thing you should do is to hide your jewelry from sight when you are trying to present it. Always be sure to look at your jewelry display sets from a front view to get an idea of your customers' vantage point. Bring other elements into the mix.
Be mindful your jewelry display is appropriately illuminated so each piece successful sparkles. Usually there are special bulbs you use for this; they are smaller but brighter than regular light bulbs. It is important to keep your display area clean to separate each piece of jewelry from one another. Periodically, you should thoroughly clean your presentation area.
It is also smart constantly change up jewelry display area so returning customers are treated to a new and fresh presentation. This means constantly researching what new jewelry display options are out there and a lot of time and effort to find the ideal jewelry display set, but if you choose your displays wisely, your efforts will be rewarded.
Request more Information