Click image to enlarge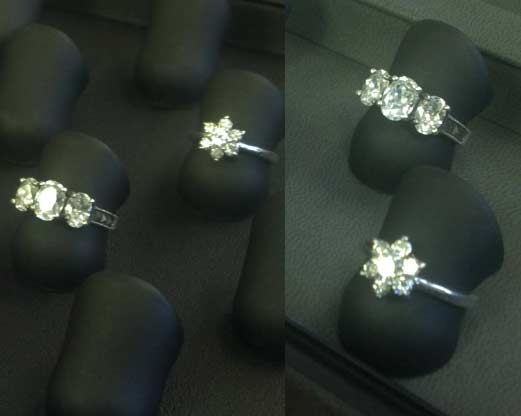 Within the picture of the left lies two images: on the left side of the image is a silver ring and a white gold ring placed against an black Orolite pads and a black leather surface in one of our Travelite jewelry presentation cases, the right side features the same rings with black Orolite pads and Graphite Elite leather in place of the black leather (click image to enlarge). Both photos are taken with the same lighting and neither has been edited at all.
Notice that the left side of the image displays the jewelry very differently from the right side; the all black interior makes the jewelry "pop" a little, but the graphite and black makes the jewelry not just "pop", but "explodes" by comparison, as if the rings are almost glowing. In my honest opinion, the difference even more visible if you were to see these two jewelry cases in person.
If you are interested in any Travelite jewelry presentation case for silver or white gold, we highly recommend you request a Travelite sample with an interior of black Orolite pads and Graphite Elite leather as the combination will make your jewelry look amazing. This same color combination can be applied to our full range magnetic jewelry display sets and many of our stackable jewelry trays, please no hesitate to ask for a sample.
Almost every other jewelry display company would insist for you to take standard colors simply because a custom jewelry display with a multiple color inside is harder to produce. Custom jewelry displays are our specialty, so while standard black leather is relatively cheap compared to Graphite Elite leather, we at Ovadia believe that if you want to display jewelry properly, then you must realize that there are no shortcuts to perfection. The standard all black leather displays for silver and white gold will not cut it in this market. A professional display for jewelry requires several colors and combining black Orolite and Graphite Elite leather is about as good as any combination color you will ever see for silver and white gold jewelry.
Request more Information